July 12th, 2016
I walked 7 miles yesterday. Admittedly, I am a little caught up in Pokemon Fever. It is fun! I enjoy playing the game with my adult children. My husband is driving us around to capture eggs, balls and weird creatures that morph into other creatures. People are connecting with each other and traveling in packs. I think many people will remember this summer of 16 as Pokemon Go.
Last night, I had to snap a shot or two of people gathering and heading to the next Pokemon stop. Artistically, the images are amazing. I uploaded them to my iPad painting program. The images I see, remind me of artist Max Ginsberg, who illustrates social experiences. He is a gifted New York artist/painter of people.
If you want to paint an experience, vacation or person, GO to a studio (hopefully my studio) and paint it. It is fun. You don't have to be a Max Ginsberg to enjoy painting.
September 8th, 2014
IS THE CLOCK TOWER A HUDSON ICON?
I think Hudsonís Farmerís Market is one of my favorite icons and memory. When I was a young mom, I regularly traveled to the Westside market, a local farm or farmerís market. Truth be told, I was trying to instill a love for vegetables in my children. For the most part it worked. Incidentally, I developed a greater love of fresh produce and created family memories.
My acrylic painting of Great Lakes Bakery booth was one of my favorite booths at the Hudson Farmers Market. I love the early morning light that reflects on the cellophane bags and the dewy grass. I like to walk through and take pictures with my husband, Ken. For me, painting images of the people and the farmer's market honors the work and support to this event. "What's Your Favorite Local Icon?" I am inviting everyone, to express your vision of your favorite icon using your mobile device. It can be a person, place or thing. Just upload your picture and share to my Facebook. Post a description and/or comment on someoneís favorite posted icon.
The competition requires artists to photograph an image that represents their idea of what an American icon is. For the competition, we asked the questions: Is your vision a í65 Mustang Convertible? Is it Steve Jobs or Mount Rushmore? Is it Beyonce, a buffalo on the range, or a NYC fireman? I want to know what is your American Icon.
This competition gives artists a virtual platform to express their vision of America. It is up to the artist to choose an image(s) that, in their minds, is iconic of America based on their personal experiences, upbringing and beliefs. Thereís was only one caveat: their American Icon image must be captured on a mobile device. Which means almost everyone in the world, professional, amateur, student, or social networking mavens, can participate. Itís that simple. All submissions must be uploaded by October 1, 2014. The top three artists with the most likes on Mary Catherine Haneline Studio Facebook page will be awarded a $50.00 gift certificate that can be used for a class, painting or toward a custom portrait.

August 7th, 2014
I admit I am vacation spoiled. Letís face it, another vacation soaking up the sun in the BVIs or a fabulous dinner in a Paris bistro is euphoric. Unfortunately, itís not always possible with college schedules, grandchildren and sports events. However, it can be magically relaxing during a staycation in Hudson. It is an opportunity to enjoy the beauty in Hudson or wherever you live.

During one of my staycations, fog engulfed the city for hours. I will admit, fog might not seem pleasant to most people. Most people might consider a staycations with fog disappointing. Admittedly, I would prefer warm sunshine. During this time, I found the fog breathtakingly beautiful the way the light reflected throughout the town. This picture captures the beauty I saw that day. My fog series, reflects (pun intended) Hudson at its foggy best; quiet beauty. Click here for paintings.

Do you have a special photograph or vacation memory that has become tattered? I know I have many. I hate to lose them. Personally, I find a painting is the best way to preserve that memory. Hanging a vacation painting in your home reflects your joyful experience so you experience it every time you look at it. Alternatively, you can learn to paint your vacation memory in my studio. I am happy to help you during my Thursday adult open studio evening or schedule a private session. Contact me for more information.

Unfortunately, sunshine does not seem possible this summer. As the saying goes, time to make lemonade out of lemons by enjoying the beauty that is around us. Cherish your Hudson staycation through art. This Friday is our 2nd monthly Art Hop where you can browse the various studios and shops in the downtown historic section of Hudson. My studio mates and I focus this monthís efforts on vacation art. Creative Fingers, owner Stacie Pinover, has some amazing artwork from her students. Contact Watercolorist, Lori Hess to show you her extraordinary artwork. I am displaying many of my Hudson landscape oils and pastels. Both Lori and I specialize in portraiture. For more information about the Art Hop and additional Hudson artist click here.

May 23rd, 2014
I enjoy teaching art. I am not sure which I like better painting or teaching. I guess I a lucky to have two occupational loves. Therefore, this summer I am trying something new, summer art camps in my studio.

When I was a younger mom, I tried to find authentic experiences for my own kids. I wanted them to experience something they can not get at school. I wanted something that would enrich them. consequently, my children have been behind the scenes feeding an eaglet, pretending to be a writer and many years at zoo crew. As for art, we always had some type of art experience at home. My son Bryce once said: "I was born in the art museum, took my first steps in the art museum and my first words were Picasso." Maybe I over did the art at home. Funny, I guess I could not help myself. I am happy they know about art, animals, sports and literature.

I hope that opening my studio for art camp creates an authentic experience for other young children where they can create in a real artist studio. I am curious, what do parents want for their children in the arts? Any ideas out there?
January 13th, 2014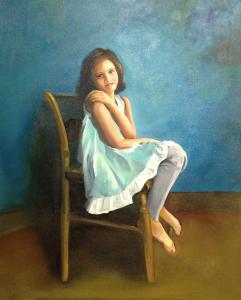 This month starts my new year in which I will be a better painter, wife, parent, grandmother, eat healthier, walk my dogs, spend less, and go to Mass more often. It sounds like I am beating myself up but I am just striving for something better than previous accomplishments. Even if I accomplish a little, I will become better.

I am becoming a skilled painter and I love painting. I especially love painting people. During my recent portrait, I reflected on the love parents have for their children. Somehow painting a portrait for them enlightens children on how mush they are loved by their parents. I have painted my own children and they seem to understand my love for them. This year, I am going to focus greater effort on portraiture to promote family love.

I wonder, if I just painted strangers will they have a better day? Will they feel more loved in a world that is busy working? I might try that. Any suggestions?